ABOUT US
February 11th, 2019 Industri
New Chinese Facility Open
---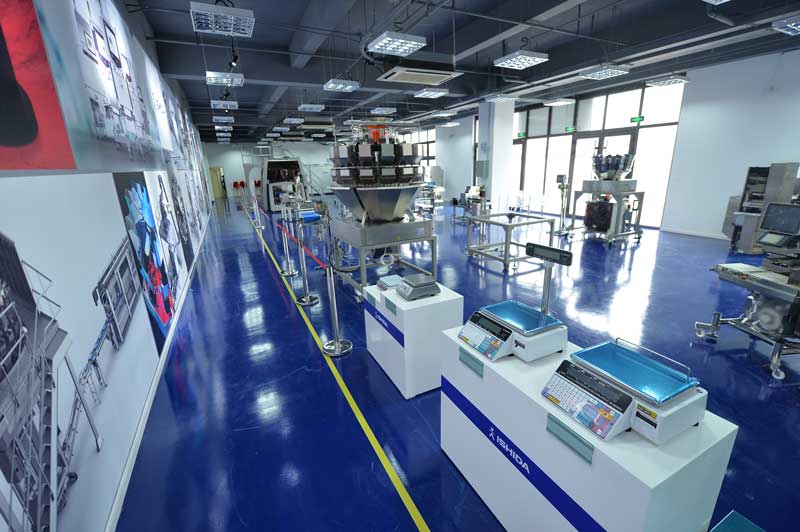 ISHIDA has opened a new manufacturing facility in Shanghai China, to expand production capacity to support increasing orders and requirements from domestic and overseas.
Originally, Shanghai Ishida Electronic Scales Co., Ltd. had two manufacturing facilities located separately but they are integrated into this new manufacturing facility to improve the productivity and production control system. They manufacture Checkweighers, Metal Detectors, X-ray inspection systems, Retail Scales, in addition to their main product Multihead Weighers in 7462 square meters new facility. Most Ishida products, including Bagmaker, Tray Sealer and Automatic Weigh Labeler are lined up in showroom area next to the manufacturing facility, which equips an environment to perform running tests together with customers.
Masami Oshima, Manager Director of Shanghai Ishida, said "China has developed into the world's largest market and expected to lead the world economy as an industrial nation in 2025, and this is a big business opportunity for us. We keep developing to maintain competitiveness in Chinese market with enhancing company structure. We need to focus on offering total system solution with Ishida's expertise and experiences to support the requirements of production line automation which are increasing here in China. It is a great pleasure to open this new facility, and we would like to continue to provide cutting-edge products and excellent services to our customers around the world."
Shanghai Ishida, established as a manufacturing site for Retail Scales in 2000, began manufacturing industrial Multihead Weigher in 2008, and has continued to expand its business in the huge Chinese market. Currently more than 200 employees are engaged in development, production, sales and after-sales support.   
Shanghai Ishida Electronic Scales Co., Ltd.
Building 2, No.86, MinXue Road,
Pudong Shanghai
China 201209
Tel: +86 21 5854 2100
Fax: +86 21 5854 2668
E-Mail: sales@ishida.com.cn 
Website: https://www.ishida.com/ww/cn
Media coverage